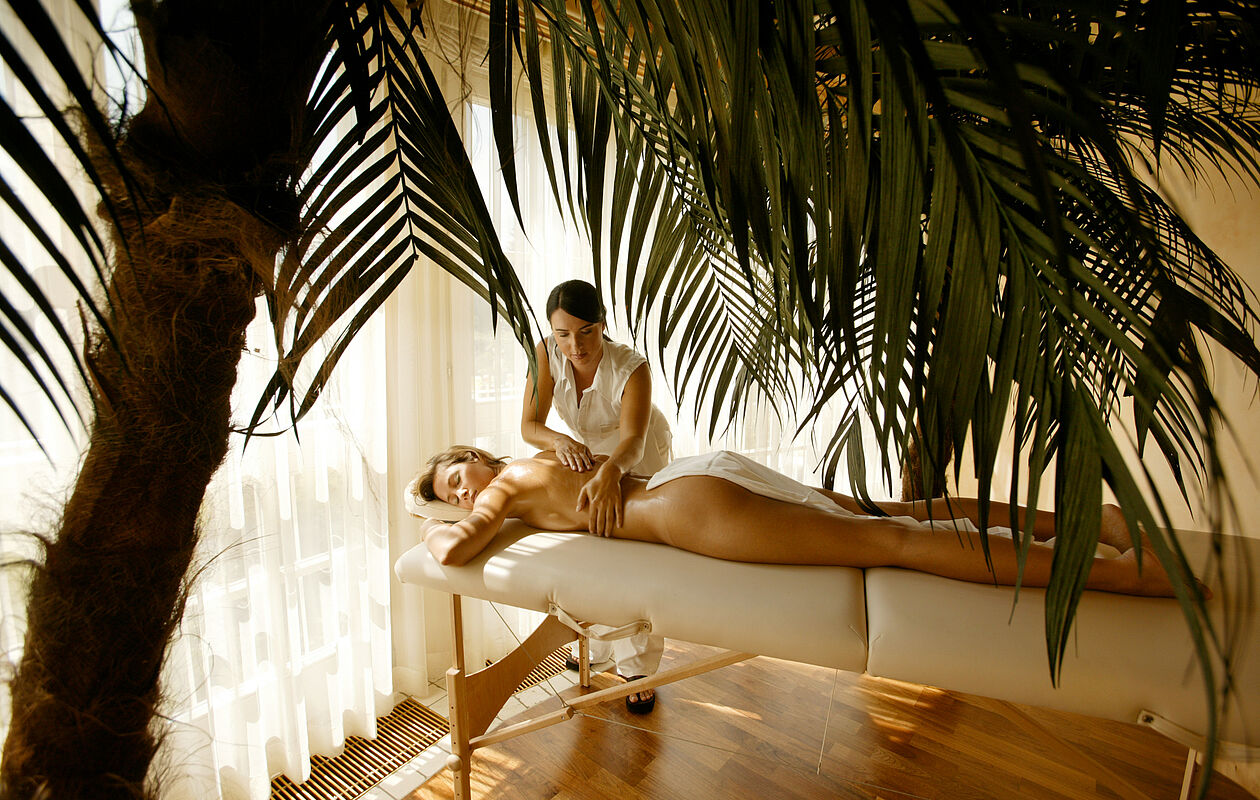 Massages in Zell am See in the 5*S Hotel Salzburgerhof.
An entire world of the fine art of massage
Caresses for body, mind & soul. Healing hands that stimulate the skin with gentle or sporty motions, activate the nerves and relax the muscles.
What could be nicer than being kneaded to perfection? Depending on your preference, a greater or lesser amount of pressure is applied to gently release tensions, which accelerates muscle regeneration and promotes blood circulation.. The flow of energy starts again and cell regeneration is activated. Massages are a true fountain of youth and a never-ending source of well-being.....
In addition to the classic treatment rooms, we also offer massages on the SPA roof terrace or by the waterfall in the Feng Shui garden. Let us pamper you!
Abhyanga - Ayurvedic full body massage
The name means "great oiling with loving hands" and that is exactly what the gentle, meditative movements feel like. The massage using herbal extracts dissolved in oil opens the body's detoxification channels and has a miraculous cleansing effect on the soul.
Duration: 60 minutes | Price: € 110
Abhyanga combined with a Shirodhara
Shirodhara involves gently pouring oil over the forehead and is one of the most beautiful and intensive Ayurveda treatments. A thin stream of warm oil flows onto your forehead, takes you into an inner world of calm and harmonizes the hormonal functions of your body.
Duration: 90 minutes | Price: € 180
Scientifically substantiated, tested in practice and considered to be outstanding. The "PMP" treatment (phyto for plants, masso for massage, podia for feet) has been well established since it was installed in our Schlössl. Our feet have a lot more responsibility than just carrying us through life. This was the starting point used by scientists to design a revolutionary, well-founded application.
PMP regenerates the circulation and lymph flow, activates the foot pump (our "second heart"), releases or relieves cramps and muscle pain and helps the whole organism to feel good again.
Optimal effects are achieved if PMP is used as the basis of all wellness treatments. A real treat for heavy and tired legs or after long days of skiing or hiking.
Duration: 50 minutes | Price: € 75