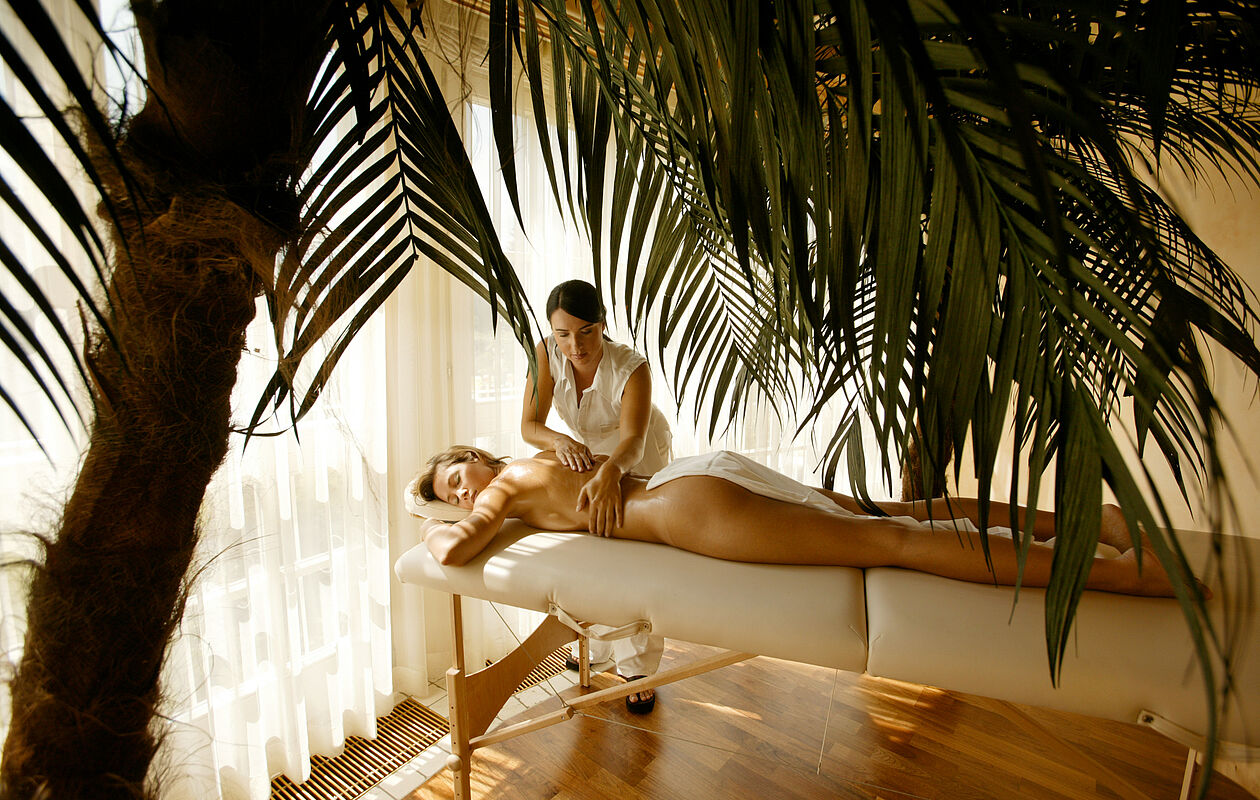 Massages in Zell am See in the 5*S Hotel Salzburgerhof.
An entire world of the fine art of massage
Caresses for body, mind & soul. Healing hands that stimulate the skin with gentle or sporty motions, activate the nerves and relax the muscles.
What could be nicer than being kneaded to perfection? Depending on your preference, a greater or lesser amount of pressure is applied to gently release tensions, which accelerates muscle regeneration and promotes blood circulation.. The flow of energy starts again and cell regeneration is activated. Massages are a true fountain of youth and a never-ending source of well-being.....
In addition to the classic treatment rooms, we also offer massages on the SPA roof terrace or by the waterfall in the Feng Shui garden. Let us pamper you!
Anti-stress wellness massage
Abhyanga - Ayurvedic full body massage
Abhyanga combined with a Shirodhara
This integral therapy form (performed on the clothed body) stimulates the self-regulation of the body by stimulating the acupuncture points and meridians. This method of treatment can be traced back to around 530 B.C. This practice involves self-treatment with massage and pressure point therapy for detoxification and regeneration purposes.
Duration: 60 minutes | Price: € 105,-
Scientifically wellfounded, tested in practice and proven to be excellent, the PMP (phyto for plants, masso for massage and podia for foot) is successfully established in our wellness castle. Our feet are responsible for far more than just carrying us through life. Scientists have taken precisely this idea as their starting point and developed a revolutionary and wellfounded treatment.
PMP regenerates the blood circulation and lymph flow, activates the "foot pump" (our "second heart"), loosens or alleviates cramps and muscle pain and in this way helps the organism to new wellbeing.
Optimal effects are achieved when PMP is applied as the basis of all spa treatments. A perfect treatment for heavy and tired legs after a long day on the slopes or an exhausting hike.
Duration: 50 minutes | Price: € 94,-