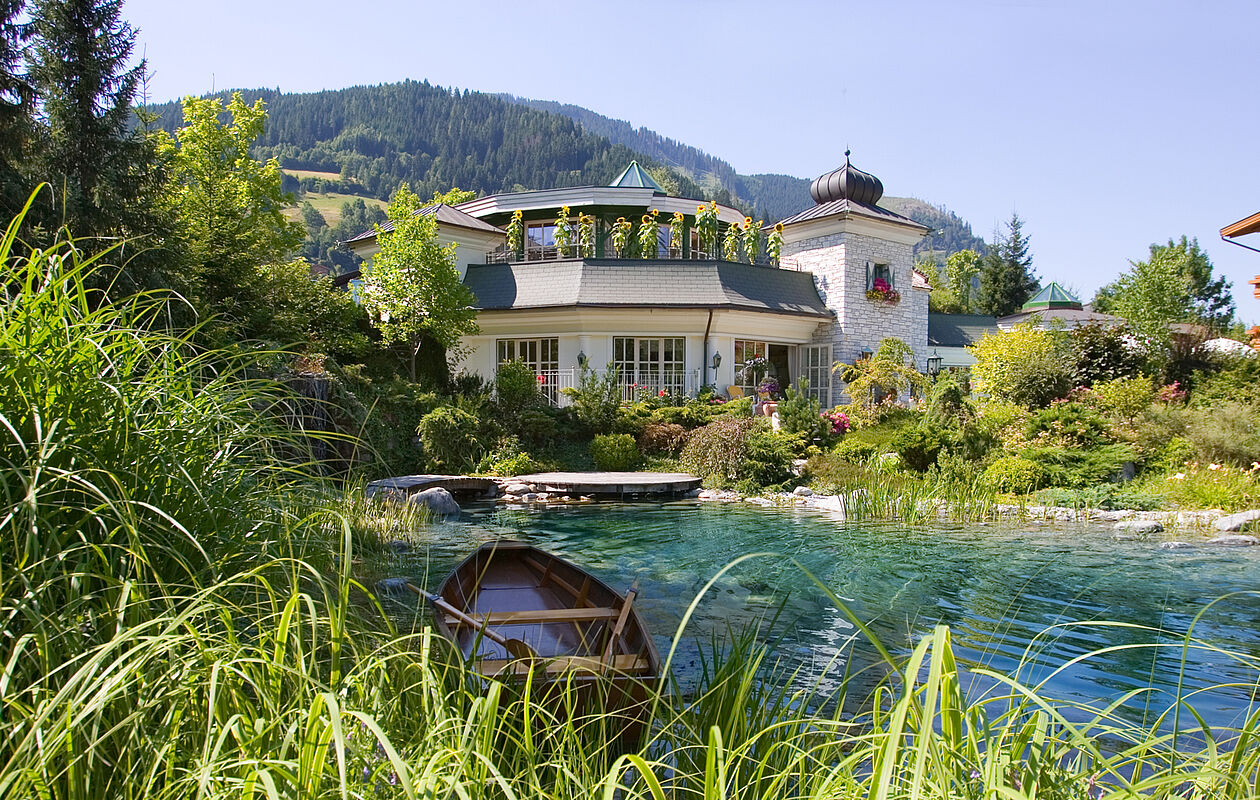 Pools & SPA at the Wellness Schlössl in the hotel Salzburgerhof
Pools & SPA
Learn how valuable it can be to go into hiding for a few days when you immerse yourself in the world of Wellness Schlössl with its pools that guarantee bathing fun:
In the invigorating water jet bath,
In the calming arcaded indoor swimming pool,
In the bubbly outdoor whirlpool,In the 20 m sports pool, heated throughout the year and with various water currents that offer resistance training.
Or when listening to the splashing of the waterfall in the Feng-Shui garden, refreshing yourself at the Kneipp facility o enjoying the natural bathing pool, the most beautiful and natural bathing experience at our wellness hotel in Zell am See
Salt Water Dome
Floating as the ultimate form of Relaxation - weightless release, either alone or accompanied by a professional - the choice is yours.
Floating, is equivalent to "gliding, hovering, drifting", takes place in the high salt concentration from the Dead Sea. The pool is more than 60m² large and 1.2 m deep with a temperature between 34°C and 36°C. You reach not only the physical state of weightlessness but also on the spiritual - emotional level.
We are the only establishment in Austria which offers accompanied floating: a trained aqua balancer accompanies you with deliberately gentle streching exercises and a mobilisation which optimally loosens the musculature. Boosters for the knees and neck help you to achieve the floating state at the beginning. These aids are usually not required after the initial stage, since the state of absolute relaxation has been achieved. How far - or, rather, how deep - the therapist goes with whom, is decided during the course of the application.
If you really immerse yourself into this unique, total relaxation experience and are prepared to really give yourself up completely, floating becomes an unforgettable, fascinating experience that carrys the floater into a formerly unknown embryonic and primordial state. Light and sound effects assist the magic of this "floating" wellness maxim.
Duration: 45 minutes
With aqua balancer € 90,-
alone € 30,-
Floating and salt water grotto (unaccompanied) € 50.-

Dragons Grotto
Inhalation with emotional components
Ionised oxygen and nebulised salt water (with or without steam, upon request) are fed into the grotto. A rejuvenation cure for the cells, a good deed for the bronchial tubes and your feeling of wellbeing as a whole. Mystical interplays of colour round off this experience, taking you to a state of pleasant wellbeing.
Duration: 20 minutes, € 30.-
Please note: the Dragon Grotto only available when booked in advance and is always reserved on an individual basis for undisturbed relaxation.