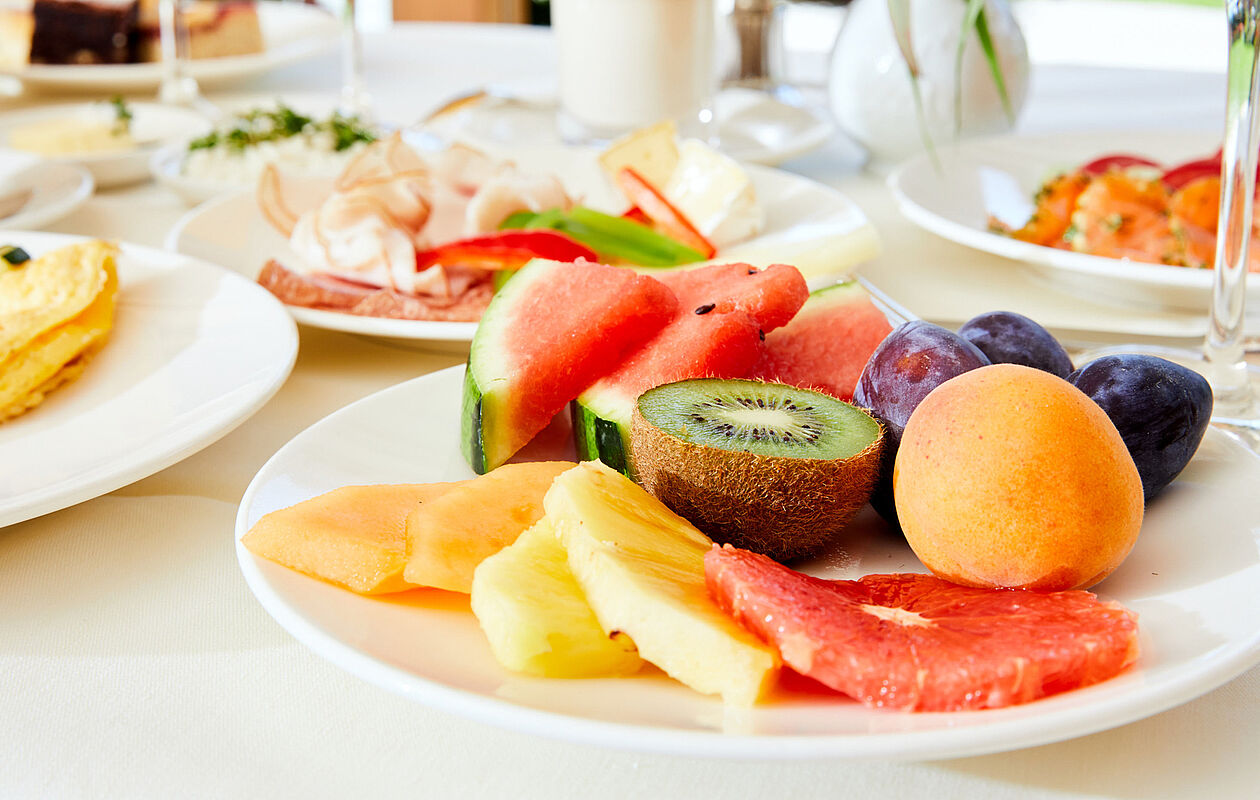 Breakfast in the 5 * S Hotel Salzburgerhof in Zell am See
Breakfast
Whether you are an early bird or prefer to sleep in, a good, hearty breakfast lets you start every day in a completely different way. If you slow down from the moment that you get up, the day can't run away from you. That's why it's important to enjoy the first meal of the day in a relaxed manner. Have a pleasant chat, breathe in the smell of cappuccino and read the newspaper from cover to cover. Because it's often the little things in life that you should celebrate.
Enjoy a lofty breakfast at the Salzburgerhof in Zell am See.
Excerpt from our gourmet breakfast with lots of organic and seasonal products:
Juice bar with freshly squeezed vegetable and fruit juices as well as a different choice of smoothies every day
Finest selection of coffee, tea bar with over 10 exquisite Ronnefeldt tea specialities
Generous selection of fresh organic mueslis, cereals, seeds, nuts, berries
Delicious warm porridge varieties
Range of regional and international fruit and raw food
Organic egg dishes freshly prepared by our breakfast chefs
Extensive bread selection and Danish pastries from regional bakers
Variety of homemade items such as jams, sweet pastries, flatbread, marinated salmon
Organic milk products from the Pinzgau milk dairy in Maishofen
Pinzgau delicacies with the best of regional organic agriculture
Waffles, cakes, ring cake from the in-hotel patisserie
and much more...
Enjoy your breakfast from 7.00 a.m. to 11.30 a.m.
Delicious breakfast, not only for hotel guests
Our varied gourmet breakfast is also available to external guests. In summer, you can enjoy the wonderful atmosphere in our garden when the weather is nice.
For a price of € 29.- per person, you can enjoy your breakfast in Zell am See from 7.30 a.m. to 11.30 a.m.
Do you want to celebrate a special occasion, such as a birthday, jubilee or wedding anniversary with a breakfast in our Hotel Salzburgerhof? We would be happy to decorate your table appropriately!
Please make a reservation via +43 6542 765 or 5sterne@salzburgerhof.at
Give your loved one a voucher for a gourmet breakfast at the Salzburgerhof in Zell am See.