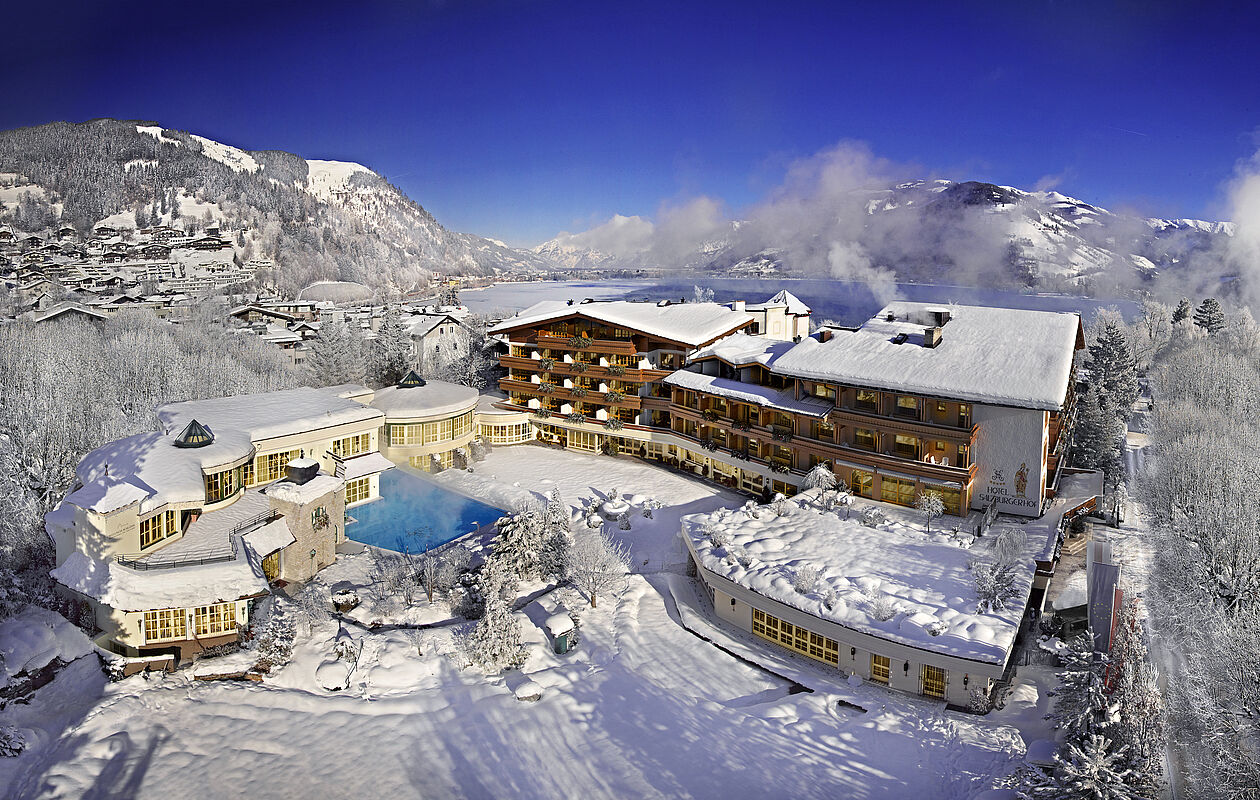 Your 5 star hotel in Austria: the Wellness, Ski, Golf & Gourmet Hotel Salzburgerhof in Zell am See
A warm welcome!
Close your eyes and take a deep breath. Inhalte the fresh mountain air. The birds are chirping, the waterfall is rushing. A dip in the crystal-clear pond, warm up in the sun and let your mind wander. Relaxing is easy in the garden oasis of the Salzburgerhof and when there is snow outside, you can relax in our with 3 Relax Guide Lilies awarded Wellness Schlössl.
Living luxury at Salzburgerhof means having time to pamper the senses. Organize your thoughts and finally let them rest in relaxed hours. Enjoy the world's finest delicacies. To let yourself go and finally find yourself again in a moment that will be remembered forever. As a 5 star superior hotel in Austria, the Salzburgerhof combines family hospitality with a level of world - and inspires at all levels.
As soon as you step in and are greeted with a warm "Grüß Gott", you will feel that the Salzburgerhof in Zell am See is a world in itself. Here you will experience the hospitality and generosity of noble days in a classically elegant way - and the joy that the Holleis family and their team share with their guests. To be a 5 star superior hotel is not just noble etiquette, but an enthusiastic, consistent commitment to first class service and attentive attention. The dedication to being a host has made the Salzburgerhof a special wellness, golf and gourmet hotel. We warmly welcome you and your family to the 5 star hotel Salzburgerhof in Zell am See!
Three-toque gourmet hotel
The Salzburgerhof is known for its traditional ambience. As soon as you arrive, a cozy atmosphere of well-being awaits you in the hotel lobby with lounge. The open fire makes you feel like you are in the living room.
The personal well-being of the guests is the most precious asset in the Salzburgerhof and finds its unique expression in the 3-toque restaurant Salzburgerstube and in every personal encounter. Enjoy a romantic evening or a harmonious time with family and friends. We warmly welcome you to meetings or celebrations in private in the ballroom. All 69 rooms & suites of the Salzburgerhof are furnished with loving details.