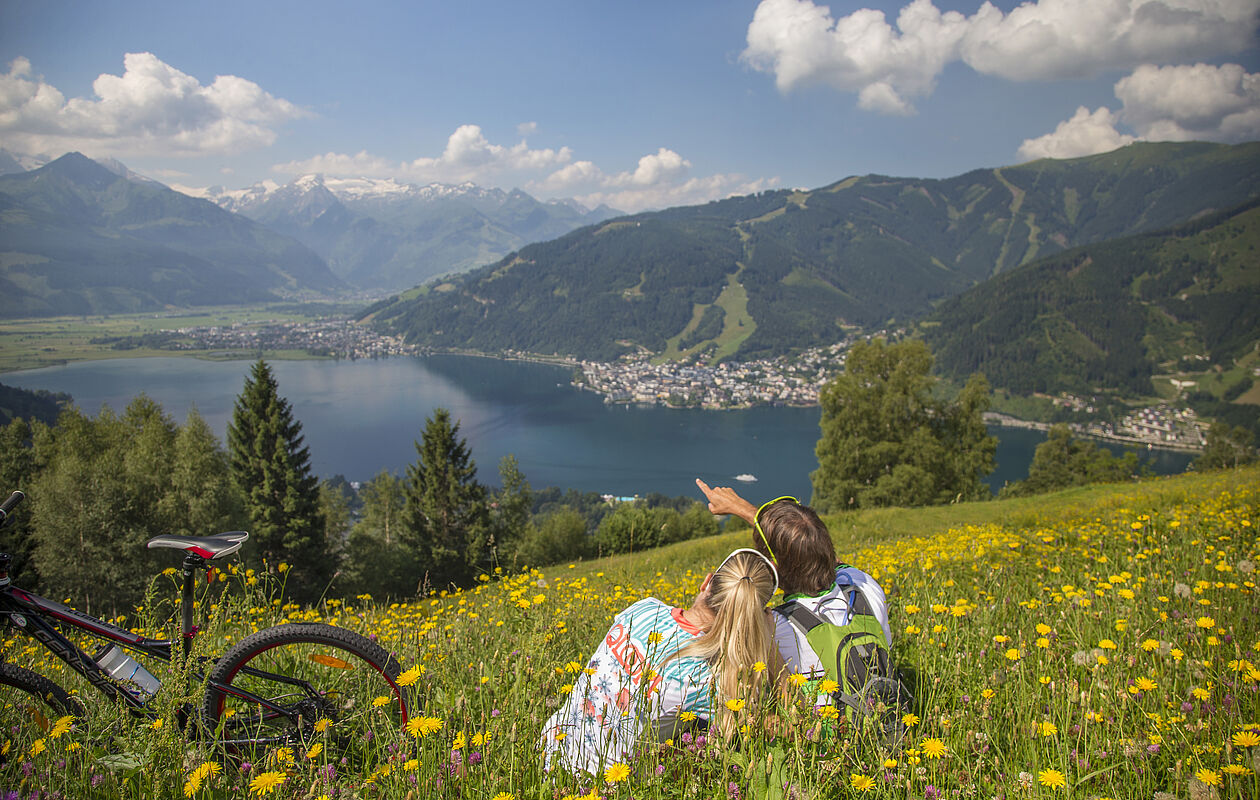 Untamed mountain worlds, fantastic hikes and vertical pleasure
The combination of majestic mountain worlds, the eternal ice of the glacier on the Kitzsteinhorn and the crystal-clear water of Lake Zell captivates thousands of visitors every year. Whether climbing, enjoying the landscape or hiking near Zell am See - here in the Alps you can experience a holiday that is sometimes wild and untamed, sometimes romantic and tranquil. In the Upper Tauern National Park, you will be amazed by the wide alpine landscapes with glaciers, impressive rock faces, lush meadows and centuries of carefully and painstakingly maintained alpine landscapes. Mountaineers enjoy the "Pinzgau Walk" with impressive views of well-known peaks such as the Großglockner, the Großvenediger or the Schmittenhöhe. Those who prefer more leisurely hiking tours are also in the right place in Zell am See-Kaprun.
Hikers can enjoy hundreds of routes in different degrees of difficulty in Zell am See and the surroundings.
For example, the "Pinzgauer walk" - as it is affectionately known - is one of the most beautiful mountain trails in Austria. It is 17 kilometres long and leads past wonderful natural treasures and, especially in spring and summer, offers many opportunities to hike in and around Zell am See.
The "Top of Salzburg" viewing platform at 3,029 m on the Kitzsteinhorn opens up unique vistas of impressive three-thousand meter peaks - including some of the highest mountains in Austria. Visitors who prefer more relaxed alpine voyages of discovery can make use of numerous cable cars when hiking in Zell am See.
As well as lengthy hikes, climbing is the most popular activity in Zell am See, Kaprun and the surrounding area. The summits of the local Schmittenhöhe and Maiskogel mountains and the Upper Tauern National Park, with heights of up to 3,000 m, are within reach.
Try out the challenging climbing parks in the region in the heart of Salzburg. Impressive mountain formations, blooming mountain pastures and crystal-clear mountain lakes form the backdrop for adrenaline-packed tours on the cliffs. Those who prefer to enjoy the exciting climbing sport "indoors", or also want to climb in winter, can use the boulder hall for sport climbing and the associated indoor high rope course.